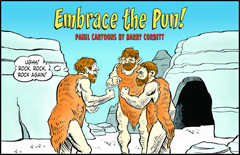 Check out our publications.  Panel cartoons and comic strip collections by nationally published Cartoonist Barry Corbett. Personalized books are also available.
---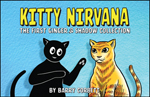 Kitty Nirvana: The First Ginger & Shadow Collection
96 Page Trade Paperback
"Highly recommended, especially as a gift book for fellow feline fanciers."
Midwest Book Review, February 2008
Kitty Nirvana chronicles the adventures of two mismatched cats & their adopted family.
Kitty Nirvana won a Silver Medal at the 2008 IPPY Awards. The IPPY's are hosted by Independent Publisher Magazine and are presented at their annual banquet in Los Angeles. The awards recognize the best independently published books of the past year.
http://www.amazon.com/Kitty-Nirvana-Barry-Corbett/dp/0976229447
---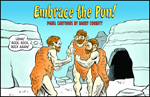 Embrace the Pun
96 Page Trade Paperback
"A Cross section of chuckle-inducing fun!", Midwest Book Review, June 2006
Embrace the Pun! is an anthology of one-panel black-and-white cartoons by savvy online cartoonist Barry Corbett. Using the author's gifts for original wit and wordplay, Embrace the Pun! mocks everything from serial killers to news events to sports and common TV cliches, with special emphasis on unique and original gags.
---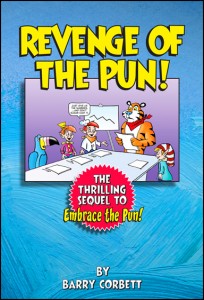 Revenge of the Pun!
100 Page Trade Paperback – Available in print or e-book format
Revenge of the Pun! is the second collection of Barry's Panel Cartoon feature, Embrace the Pun!
Revenge of the Pun has already won a couple of awards for independent publishing.   ForeWord Reviews gave it a Silver Medal for Best in Humor at the 2011 Book of the Year Awards, and Independent Publisher Magazine awarded it a Bronze Medal for Graphic Novel/Illustrated Book category at the 2010 IPPY Awards.
Many of these cartoons have appeared in Barrons Magazine, American Legion Magazine, Lacrosse Magazine, The CityTown Extra, True West Magazine, Medical Economics, Skipping Stones, The Artist's Magazine, The Chicago Loop News and FiftySomething Magazine.